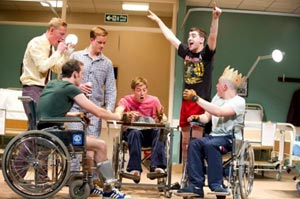 This searingly honest and explosively funny play is based on the author's own experience. The cast includes Arthur Darvill (Rory in Doctor Who), Laurence Fox (Hathaway in Lewis), Matthew Lewis (Neville Longbottom in the Harry Potter films).
Six young soldiers are killing nothing but time as they recover from injuries incurred in the line of duty. Suddenly, their daily routine of TV, lonely hearts ads and banter is shattered by the arrival of a young officer. The camaraderie of this unlikely band of brothers is soon jeopardised by a dangerous incident and an act of betrayal.
Win a pair of tickets to see Our Boys
At which London Station can you see the Harry Potter 9 ¾ platform?
A.     Euston
B.     Kings Cross
C.     Charing Cross
Email the correct answer to info@britmovietours.com along with your name and phone number. The winner will be picked on Wednesday 17 October and informed by email or phone on the same day. Entries are strictly limited to one per person.
Also available
Get top price tickets to Our Boys, including a drink with some of the cast for £32.50 (normally £45.00). To book tickets please call 0844 412 4659 and quote 'Fan Night' offer or visit www.ourboystheplay.com and enter FANNIGHT promo code when prompted.
Our Boys
Duchess Theatre
Catherine Street
26 September – 15 December 2012
Box Office: 0844 412 4659
www.ourboystheplay.com
Competition Terms and conditions apply. Tickets are valid for 1st November 2012 only. Subject to availability. Prize is as stated and cannot be transferred or exchanged. No cash alternative will be offered. Producers reserve the right to restrict prizewinner tickets to specific performances during busy periods.
Offer terms and conditions: Tickets are valid for 1st November 2012 only. Subject to availability. Cannot be used retrospectively or in conjunction with any other offer. Drink includes a beer, glass of wine or a soft drink. Booking fees may apply.