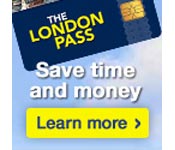 The London Pass is a sightseeing city card which gives you entry to a choice of over 60 popular tourist attractions in the city.
It's everything you need for a great sightseeing experience – once you've bought a London Pass you don't have to pay to get into any of the attractions it covers. Simply show your card at the entrance or ticket office of any attraction included on the London Pass, they will scan it through our special card readers and you will be allowed entry. It's really that easy!
Check out the full list of London attractions you can visit for free with the London Pass.
Validity of London Pass
The chip in the card records when and where you first use your London Pass, as well as how long the pass will remain valid for. This means that regardless of what start date you give when you buy the pass, your London Pass is activated the first time you use it at an attraction or service.
The London Pass is available for 1, 2, 3 or 6 days – choose the duration of Pass that fits in with your trip.
Your London Pass is valid for use on consecutive days for the duration you have selected. At the end of your validity period or when your purse value has been used up, the pass will expire and will no longer allow access to attractions. Passes can only be used at each attraction once.
The London Pass is subject to a purse value of maximum gate prices related to the number of days. For example, with a one day adult pass you can visit up to £80 worth of attractions.
Click here to save on attractions, tours and much more.