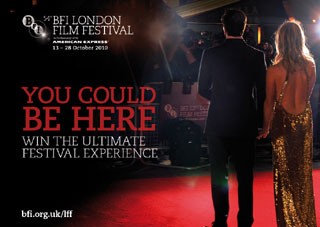 BE THE FIRST TO SEE THE WORLD'S BEST NEW FILMS!
Sign up to the BFI London Film Festival mailing list at bfi.org.uk/lff to enter a fantastic prize draw to win the ultimate Festival experience including accommodation, transport and tickets to our star-studded red carpet Galas.
Closing date 17 September 2010
By subscribing to our mailing list you will also receive information on screenings, have the chance to enter exciting competitions and gain access to exclusive clips.
Don't forget, if you don't win this time around, the BFI London Film Festival is open to all and anyone can book tickets for any Festival event. Don't miss your
chance to join in the excitement and hit the red carpet!
Public booking opens on 27 September
Call our box office on 020 7928 3232 or book online and find out more at bfi.org.uk/lff