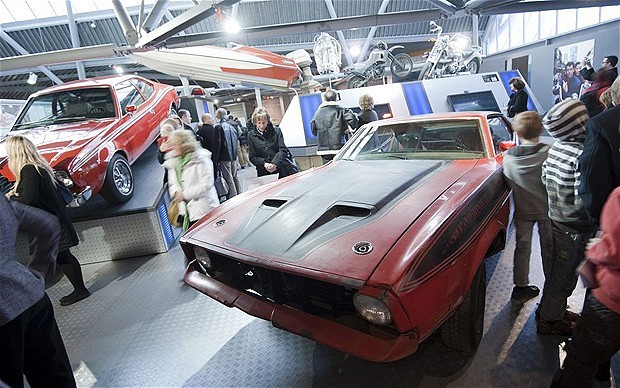 Half a century ago James Bond roared onto our screens in a not particularly auspicious fashion. Driving a sporty little Sunbeam Alpine in Dr No, he struggled to outrun a 1930s Buick LaSalle hearse on a winding Jamaican road. But the image of 007 at the wheel – whether it was of a car, speedboat or plane – was born and is undoubtedly well worthy of commemoration.
To celebrate this half a century, the National Motor Museum at Beaulieu in Hampshire opened its Bond in Motion exhibition this week. Featuring 50 original vehicles from the 22 films so far, it's claimed to be the largest gathering of James Bond vehicles in the world.
Of course the most memorable is the silver Aston Martin DB5. It made its debut in 1964's Goldfinger and went on to become arguably the most famous movie car of all time courtesy of the bad guy-beating arsenal within those classic curves. Two are on show, with working gadgets. That aside, if you struggle to remember the vehicles Commander Bond, and as importantly the forces of evil he was combating have had at their disposal, a visit to Beaulieu should get your memory sparking.
Beaulieu's Margaret Rowles said: "We knew how many exhibits we wanted and so we went to [Bond makers] Eon Productions and the Ian Fleming Foundation to source them. We were after a good mix of hero and villain vehicles and we've ended up with everything from a Tuk Tuk to an Aston Martin DBS."
Of particular note is the Ford Mustang Mach I which is making its first public appearance since Bond put it on two wheels to navigate a narrow alleyway and evade the police who were chasing him in the 1971 filmDiamonds are Forever. Another debutant is the Rolls-Royce Silver Shadow II that the villainous Valentin Zukovsky has in the World is Not Enough. From the same movie, commercial pressure had pushed Bond producers towards BMW. After flirting with a puny Z3 in GoldenEye 007 ends up with a Z8 sports car. In the following film, Tomorrow Never Dies, that same relationship saw our hero driving a 750iL. But even the car's ability to be operated via remote control from the back seat and placing it on a podium in Beaulieu struggles to make it look any more dramatic than a used Beemer…
Far more in keeping is Wet Nellie, the Lotus Esprit that causes the holidaymaker to look quizzically at his drink as Roger Moore drove it out of the Sardinian sea in The Spy Who Loved Me. Gadget fiends will be equally entranced by the Die Another Day baddie Zao's bright green Jaguar XKR complete with grille-mounted machine guns, a rear-mounted Gatling gun and boot-mounted mortars.
For comedic value there's the Citroën 2CV that Bond used to escape from Jaws in For Your Eyes Only and the Renault 11 taxi complete with missing roof from A View to a Kill. Perhaps the most compelling of the cars was run by Bond's nemesis, Auric Goldfinger. It's the beautiful 1937 Rolls-Royce Phantom III driven by Goldfinger's henchman and chauffeur Oddjob.
But this is a lot more than just a car exhibition. There are underwater spear gun vehicles, escape modules and various motorbikes as well as the Little Nellie autogiro which is a cross between an aircraft and helicopter. In 1967's You Only Live Twice Q somehow assembles this from four suitcases (in alligator skin, naturally), which are also on display. The autogiro does actually fly, as does the Acrostar mini jet that Bond pilots in Octopussy after retrieving it from a horsebox, folding out the wings and taking off.
And the 1961 Sunbeam Alpine that started it all? According to Beaulieu, no one knows where it is. "It was hired from a lady on the island for Dr Noand then returned to her. At the time, no one realised how significant it was going to become," Ms Rowles said.
Source: The Telegraph