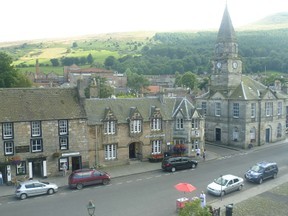 All summer, millions of fans eagerly awaited Outlander's coming to life onscreen. The first episode, "Sassenach", does not disappoint readers of the beloved books. Excitement has surrounded the actors portraying Jamie, Claire, and Frank. After seeing them in action, most agree the roles are well-cast and represent the characters readers have known for years.
The eighteenth century has seen nothing like Claire: feisty, intelligent, and sexy. Hours after Claire falls back in time, she takes charge of her Scottish captors and demonstrates the correct way to shove Jamie's dislocated shoulder back into place. Later, she calls Jamie a "goddamn bloody bastard" as she repairs a gunshot wound he tried to hide. Jamie is in awe, and his clansmen are astounded at the language from a woman, telling her that her husband should tan her hide. Jamie responds to her spirit with humor, thanks her for repairing his wounds, and dubs her Sassenach.
In the twentieth century, Claire displays that spunk with her husband, Frank. Recent historical dramas such as The Tudors or Games of Thrones portray men as the ones in charge, particularly when it comes to sex. This is where Outlander is different: Claire initiates the sex. A progressive idea in the 1940's, and not at all typical in the eighteenth century, but a theme that is carried by the author in the novels. We can hope producers will encourage strong, feisty women in the characters of Geillis Duncan and Jenny Murray.
The time travel element makes Outlander a mash up of historical drama, romance, and fantasy. Readers would have been insulted by a cheesy image of Claire's body spinning through black space. The process of falling through time had to be realistic. The scene begins with Claire picking flowers near the stones at Craigh na Dun. The sound of the wind distorts and then mingles with voices. Claire looks up, touches the stone, and we cut to her narration. She describes a memory of a car accident where she felt the sensation of falling at high speed. Then, Claire is lying on the ground where she was before she touched the stone. She stands up and heads back to the car, but it isn't there. The road isn't there. She goes back to the woods and walks for a bit before she hears a gunshot. Confused, she thinks she's stumbled upon a battle re-enactment until she sees real bullets flying. Claire is now running blindly through the woods to the tune of lively bagpipes and drums. The music adds humor to her peril because you know she's thinking, "Seriously? What is this happening to me?" She comes to a stream and there is Black Jack Randall, who looks like Frank. She hesitates long enough for him to attempt to rape her before a filthy Scottish soldier comes to her rescue. It doesn't take her long to figure out she's not in the same world anymore. Her Scottish savior reeks too much for her predicament to be a dream.
Claire narrates through most of the episode. This could become annoying if continued in every episode, but for a viewer who hasn't read the books, Claire's explanation fills in the missing gaps.
The Highland scenery is as swoon-worthy as the characters. Outlander contains sweeping images of the Scottish Highlands, and old castles and ruins are featured. The producers did a believable job of contrasting the past and the future versions of the same locations. A great example is Cocknammon Rock, a series of tall cliffs shaped like a rooster tail jutting up into the sky. Claire first sees them while riding in a car with Frank. He describes them as a prime spot for British soldiers to hide and ambush Scotsmen. The next time we see Cocknammon Rock, Claire is riding a horse with Jamie. The paved road has been replaced by rocky, wooded terrain, yet Claire recognizes the landmark and informs her Scottish captors of possible British Dragoons hiding. There is similar contrast between the centuries with Castle Leoch: an empty field of broken tractors compared to a busy dooryard swarming with livestock and Scottish clansmen.
Outlander can only get better from here: more scenery, more characters, and more Jamie and Claire.
The scenery is absolutely stunning and with our local guide who is a fan of both the books & TV series and former member of the Scottish BAFTA, will discuss information from the Outlander TV series, show you how the books and reality differ and recall incredible tales of legend and local history that could come right out of the books.
Head over to our Outlander Tour page to get details about our new Outlander Tour which takes you to all the main TV filming locations sites..