Game of Thrones Tour Belfast. See 7 iconic sites including the shadow baby's birth place, where Brienne of Tarth defeated Ser Loras & The Giant's Causeway.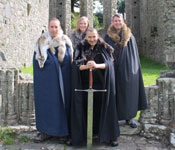 Game of Thrones Winterfell Tour from Belfast visiting more than 10 locations south of Belfast including Winterfell, Riverrun and Robb's camp


Launching in 2020 this immersive Game of Thrones studio tour shows fans the sets, props and costumes up close. Ticket includes coach transport from central Belfast.