Join the original and best Doctor Who London Tour
Follow in the footsteps of the time travelling Doctor on a fully guided Doctor Who London Tour. The series which first appeared in 1963 has a huge global fan base. As you explore London you will follow in the footsteps of Christopher Eccleston, David Tennant, Matt Smith and Peter Capaldi.
Our fantastic Doctor Who guides will take you on a 2 ½ hour walking tour exploring sites from new Who episodes from 2005. You will also see a few sites from classic episodes as well.
A fun morning for fans of the Time Lord
The tour starts just outside London Bridge Station where you'll see the Great Intelligence Base from The Bells of St John's. Journeying through Borough Market and along the South Bank you will see both new and classic locations. An iconic episode and location included is The Globe Theatre as seen in "The Shakespeare Code" with David Tennant.
See where Missy sat as her Cybermen take over the world and and hear behind-the-scenes tales. Filming took place in some of London's busiest tourist attractions and hear funny stories about its challenges. You will discover lots of Doctor Who trivia and learn about London landmarks that were the backdrop to filming.
A tour to remember for fans and non fans
Along the way, you'll have plenty of chances to take pictures and see the locations up-close.  As part of the tour, you will take a short bus journey, so you will need either a Zone 1 Travelcard or an Oyster card.
Finishing at Westminster, we will tell you how one of Doctor Who's most famous mistakes made it into the first series of 'New Who'.
A mixed tour of Classic and New Who locations is available upon request (as a private walking tour only).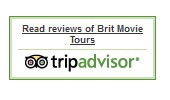 Please also note:
Owing to the nature of the locations visited, this tour is not accessible for wheelchair users or for parents with prams or buggies
BSL is not provided for this tour  
Adults who are 18 years and older must accompany anyone who is 17 years or younger on all tours
Disclaimer: This is an independent, unofficial tour of public locations featured in the BBC's Doctor Who television series. It is not connected with, or licensed or endorsed by, the BBC in any way, and does not include access to any official Doctor Who sets or props. Doctor Who, Torchwood and The Sarah Jane Adventures (and related titles and characters) are trade marks of the BBC. All rights reserved by the BBC.