Where is Love Actually Filmed?
Love Actually was filmed mainly in and around London, but some scenes were filmed in Surrey and France. The hit British Christmas-themed romantic comedy film written and directed by Richard Curtis and has become a modern-day Christmas Classic.
Daniel and Sons Heart-to-Heart
The location of where Liam Neeson's had the heart-to-heart with his son was filmed on the Queen's Walk which is a path on Gabriel's Wharf, South Bank, London. Just in front of the Riviera Restaurant outside 56 Upper Ground, you'll find the bench.  This was the location of the tear-jerking scene where Daniel's son reveals that the pain and stress he is going through is the fact that he is in love.
10 Downing Street
All the internal filming scenes of 10 Downing Street were filmed at Shepperton Studios.
The most photographed front door in all of Britain is 10 Downing Street, the official address for British prime ministers since 1735.  Today you can't walk down Downing Street, however the famous number 10 can be seen when looking through the gates from Whitehall:
Dodgy end of Wandsworth
The scene where the Prime Minister (Hugh Grant) searches for Natalie (Martine McCutcheon) in 'the dodgy end of Wandsworth' was actually filmed at 102 Poplar Road, Herne Hill, Brixton, London, SE24 0BP:
Peter and Juliet's Wedding
Peter's (Chiwetel Ejiofor) and Juliet's (Keira Knightley) Wedding was filmed at Grosvenor Chapel, South Audley Street, Mayfair, London W1K 2PA to the East of Hyde Park:
The pretty Anglican church dates back to the 1730s.  The couple walk down the aisle to 'All You Need is Love' by The Beatles with the ceremony being filmed by best man and love-struck Mark.
Mark Declares his Love to Juliet
The heartwarming scene where lovestruck Mark (Andrew Lincoln) declares his love to Juliet silently with his cue cards was filmed outside 27 St Luke's Mews, Notting Hill, London W11 1DF: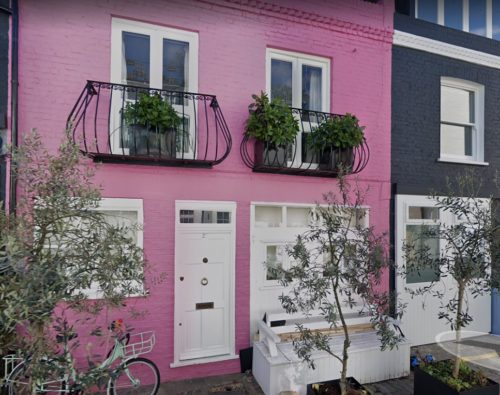 Mark's Home
The external shots of where Mark leaves his flat after Juliet's discovery was filmed outside Oxo Tower Wharf Barge House Street, London SE1 9GY:
Jamie's House
The house where Jamie discovers his girlfriend cheating was located at 2a Blenheim Road, Turnham Green, London:
Portuguese Restaurant
The Portuguese restaurant, where writer Jamie (Colin Firth) declares his love for Aurelia (Lucia Moniz) was filmed in South of Frane.  The actual address is  Le Bar de la Marine, 15 quai de Rive Neuve, the Old Port in Marseille, South of France:
Christmas Concert
The Christmas Concert where Natalie sneaks the Prime Minister into a school  to watch the concert from back stage was filmed at Elliott School, in Pullman Gardens, London, SW15 3DG.  Today the school has a new name is is called Ark Putney Academy:
Harry Buys Mia Necklace
The scene where Harry (Alan Rickman) buys the necklace for his new secretary Mia (Heike Makatsch) was filmed at Selfridge's,  400 Oxford St, Marylebone, London W1A 1AB:
Opening and Closing Scenes
The film's opening and closing scenes take place at Heathrow Airport:
Other Locations
Other locations you see in the film include Trafalgar Square, Somerset House in the Strand, Grosvenor Chapel on South Audley Street near Hyde Park, St. Paul's Clapham on Rectory Grove, the Millennium Bridge, Lambeth Bridge, the Tate Modern in the former Bankside Power Station, Canary Wharf, Marble Arch, the St. Lukes Mews off All Saint's Road in Notting Hill, Chelsea Bridge and London City Hal.
Love Actually Cast
Hugh Grant, Martine McCutcheon, Colin Firth, Alan Rickman, Liam Neeson, Billy Bob Thornton, Chiwetel Ejiofor,  Keira Knightley, Bill Nighy, Emma Thompson, Andrew Lincoln, Thomas Brodie-Sangster, Edward Hardwicke, January Jones, Shannon Elizabeth, Elisha Cuthbert and Rodrigo Santoro,
Love Actually Tour
Here at Brit Movie Tours we offer a number of Rom Com tours which take you to locations from films such as Love Actually.  The details of our 2 and a half Love Actually Tour with other Rom Com sites can be found here. 
Also our Notting Hill Tour also takes in some of the filming locations from Love Actually and also locations from Notting Hill and Bridget Jones: Edge of Reason and Sliding Doors