With Universal Studios turning 100 on the 30 April, Brit Movie Tours helped the world famous studio celebrate its centenary.
Universal Studios asked us to put together a tour that celebrated the iconic locations featured in numerous films shot in the capital over the years including Notting Hill, Bridget Jones, Atonement, Kick-Ass, Shakespeare in Love, Wimbledon to name but a few.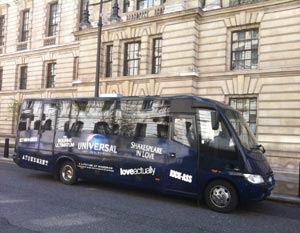 We designed one of our buses specially for the occasion with Universal's logo and some of the films titles printed on it
We were joined by groups of journalists, publicists and people on the film industry, all invited by Universal Studios to celebrate their 100 years by touring around London.
During the day we found posts on twitter by people on the tour who wouldn't stop posting pictures and positive comments on the tour.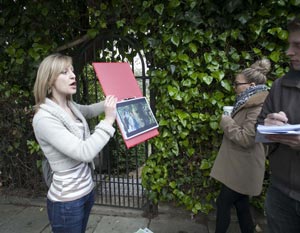 Our guide Val ran the tour and had her few minutes of fame on BBC London News.
See the BBC London article on the tour.
It was a great pleasure for us to be part of this big celebration of Universal 100. Lets hope we can do the same again in 2112