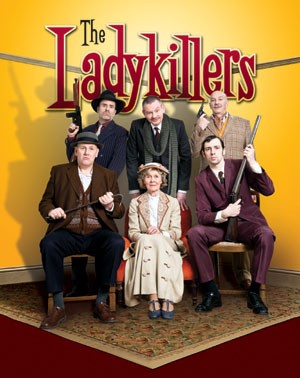 The Ladykillers!
The award-winning comedy THE LADYKILLERS returns to London this summer at The Vaudeville Theatre.
THE LADYKILLERS (WhatsOnStage.com Awards Best New Comedy) written by Graham Linehan (Father Ted) and directed by Sean Foley (The Play What I Wrote) tells the classic black comedy tale of a sweet little old lady, alone in her house, pitted against a gang of criminal misfits who will stop at nothing….
Featuring a stellar cast of some of the finest stage and screen comedy actors including, Simon Day (The Fast Show), Ralf Little (The Royle Family), Olivier Award winners Con O'Neill and John Gordon Sinclair, Chris McCalphy, and Angela Thorne (To The Manor Born) as the sweetly innocent Mrs Wilberforce.
Posing as amateur musicians, Professor Marcus and his gang rent rooms in the lopsided house of sweet but strict Mrs Wilberforce. The villains plot to involve her unwittingly in Marcus' brilliantly conceived heist job. The police are left stumped but Mrs Wilberforce becomes wise to their ruse and Marcus concludes that there is only one way to keep the old lady quiet. With only her parrot, General Gordon, to help her, Mrs W. is alone with five desperate men. But who will be forced to face the music?
Win a pair of top price tickets to see The Ladykillers!
The Ladykillers
Vaudeville Theatre
404 Strand
London
WC2R 0NH
Box Office: 0844 412 4663
Opens: 29 June 2013
Which of these works was not written by Graham Linehan, adapter of the play?
a) Father Ted
b) The Royale Family
c) The Ladykillers
Email the correct answer to [email protected] along with your name and phone number. The winner will be picked on Wednesday 22 May and informed by email or phone on the same day. Entries are strictly limited to one per person.
Terms and conditions apply. Prize is valid on all Mon-Fri performances until 30 August 2013. All prizes are subject to availability. Prize is as stated and cannot be transferred or exchanged. No cash alternative will be offered.