Here at Brit Movie Tours we are counting the days until we can welcome you all on our tours.  The past year has been tough on all of us.  However, we are ready to open up and starting from the 12th of April you can book our Doc Martin Tour and our Jack the Ripper walking tour.  Soon after in May our Game of Thrones Tour from Belfast will be going ahead.
It is hoped as of 21st June all of our tours will resume and with the possibility of the removal of the limits in terms of social contact.  However, this will depend on the government's advice closer to that date.  If all limits are removed then all of our tours will be back running again.  We shall keep you updated. We have all felt a little like caged animals over this past year and we are all ready for some normality.  Being stuck at home without any leisure time has been hard for many.  We are looking forward to welcoming as many as you as possible.  We thrive on customer interaction and our good feedback is what feeds our passion.
Days out in the UK
Getting outdoors has been one way many of us have dealt with our mental health and sanity during lockdown.  A lot of us Brits are planning British holidays and days out once restrictions have been lifted.  The UK has many great places to visit and it feels like many people want to put back into the UK economy. Many people are watching what is happening in Europe and deciding against a holiday abroad.  It is too early to say, but the UK tourist industry is hoping for a busy summer.
So if you're looking for things that are open when covid restrictions ease, take a look at the tours we offer below.  We are an ethical company and you can read our reviews to see that we really to try to go that extra mile.  Many of our tours are available as private group tours so if you are looking for things to do in London tomorrow, take a look at our public tour calendar.
Best day trips from London
Some of our tours make the best day trips from London.  Our Downton Abbey Coach tour is one of our most popular day trips from London.  You will get to see 2 of the main filming locations and spend a day in the beauty of the Cotswolds and the real-life home of the Carnarvons.  As with all our tours you will be shown stills and see the locations as they appeared in the show.  From Bampton village, you will take a one-hour journey to Highclere Castle which is the castle used for filming Downton Abbey. For more information about booking this day trip to Downton Abbey click here.   To get a feel of what our customers thought about this day trip take a look at these reviews on Tripadvisor.
Another day trip from London is our James Bond tour.  This 10 hour day tour is led by a knowledgeable James Bond expert who is passionate about all things 007.  Starting in London from a pick out location of your choice, you are taken to Buckinghamshire via a short stop at the location used as Shrublands in Thunderball.  Next up is a visit to Oxfordshire and the beautiful picturesque 12th-century house in the Chiltern hills. This location served as the Bladen Safe House in The Living Daylights.  This packed day tour next takes you to a town in the Chilterns to see the 18th-century coaching inn, which stood in for the hotel where Major Derval stays in Thunderball.  This tour highlights historical information at each location so there is plenty to learn.  Many other James Bond locations make this a great trip from London for James Bonds fans. For more information on this James Bond Tour click here.
London Day Trips –  Things to do in London
If you are looking for London day trips or things to do in London you have come to the right place.we have plenty.  A number of tours also take in some of the best and most famous tourist attractions.  London has so much to offer, pretty much all of our London tours pass some of the best tourist attractions.
Our Notting Hill tour takes you to the famous Portobello Road market.  This is a guided walking tour which includes 9 locations from the Notting Hill film, but also locations from Sliding Doors and Love Actually. It's a great tour to see some of the quaint areas of London. Click here to book our Notting Hill Tour.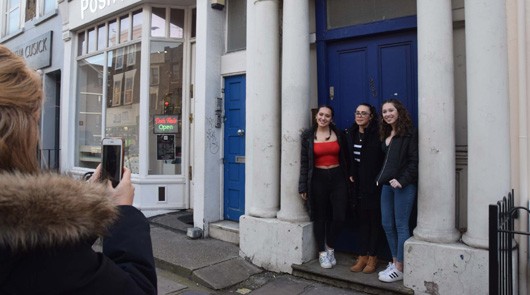 Day trips from June 2021
Kids and adults love our Doctor Who Walking Tour of London.  This tour takes you to many locations from the show over the years.  It is a mixture of classic and new locations.  The tour begins at London Bridge and takes in the sites from episodes from 2005 from the Great Intelligence Base on "The Bells of St John's" to The Globe Theatre as seen in "The Shakespeare Code".  Along the trip you will learn interesting behind-the-scenes stories of how filming took place in some of London's busiest tourist attractions.
Fans of Sherlock Holmes can once again explore the places featured in the books and visit the real sites that inspired the writer Sir Arthur Conan Doyle.  This tour is a must for fans of Sherlock Holmes. Very unique tour in that it features movie filming locations as well as adaptations from various television series.  Follow this link for more information.
Harry Potter is another great family day out.  Like Doctor Who, Harry Potter appeals to all ages.  Our Harry potter London walk takes you behind the scenes and allows you to discover secrets about Harry Potter you didn't know.  All of the London locations are spread far and wide so you will need to take a short tube jounery.  We recommend an Oystercard, a contactless card or a Travelcard valid to travel in Zone 1 for this tour.  This makes the tour all the more fun.  The tour guide is a fan who has read all the books and studied all eight movies.  The tour takes you to over 10 Harry Potter locations and lasts for 2 – 2.5 hours.  You will pass a number of iconic London landmarks and attractions on tour.  Iconic sites include St Paul's Cathedral, Millennium Bridge, Tate Modern, Borough and Leadenhall Markets and Monument.  To book this Harry Potter tour click here.
Days out from July 2021
For those that discovered Mary Poppins during lock-down might like our Mary Poppins tour which takes you to all the main locations from Mary Poppins Returns.  This two hour walking tour takes you to locations from the new and old film.  The original film was filmed in a studio, but based on London you can still grab a photo and hum "Feed The Birds" to yourself at the steps of St Paul's Cathedral.  If you want a practically perfect way to see London, this walking tour is it.   This is a practically perfect mix of fiction and reality.  This tour is running on the 4th and 25th July 2021, so book up, we guarantee you have a supercalifragilisticexpialidocious time!
We have many more tours available so if you are looking for things to do in London tomorrow, or looking for things to do near you, take a look at our tours.  There is bound to be a TV show or film which you and your family can enjoy.   Now is the time to get your calendar out and book some great days out in the UK.  Let 2021 be the year that you rediscover the beauty of the country we live in.
Days out in Manchester
If you are planning a trip to Manchester why not book our Coronation Street Tour of Manchester locations. It's a 4 hour tour tailored for small groups but perfect for those with a in Manchester.  This guided tour takes you on a journey into the lives of the characters of Britain's longest-running soap opera.  Coronation street is set in the fictional town of Weatherfield in Greater Manchester.  From 1960-2014 it was filmed at Granada TV studios, now the filming is based at Media City in Salford, mainly filmed on a closed working set. This tour complements the official set tour offered at Media City and gives fans a great overview of Manchester.  First tour is 25th July 2021.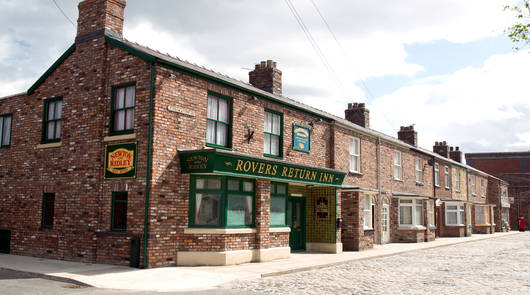 Health & Safety
The health & safety of our guests and team members remains our highest priority. We are doing everything we can to ensure you travel safety and provide maximum flexibility as the situation around Covid-19 continues to evolve.  Having been given the green light and Good to Go accreditation by Visit Britain & Visit England, we can operate safe and keep you & our team healthy throughout.  For information on our Covid health and safely protocols please click here.