If you're looking for a film location company that specialises in film locations in London and the UK, you have come to the right place. Brit Movie Tours are experts on UK film locations and have been creating movie location experiences since 2009.
Visiting movie locations is a popular activity for tourists to do when visiting a city.  People love to grab selfies and recreate scenes from their favourite movie locations. When the location is an already famous historical location, it makes the experience and the visit that much more special.
Tourists and holidaymakers are now more cultured than ever and have far more choices for things to do and activities when looking at traveling abroad. More and more people are wanting to learn and experience the locations seen in the movies and design their vacations around events and locations.
What is filming in London right now?
A lot of people ask what is filming in London right now. London is a magnet for film production so there will be a film set in London somewhere. Finding it is the tricky part. Film companies try to keep locations as hush-hush as possible, but make get leaked. With social media, it's not long before someone lets the cat out of the bag. To find filming locations in London today you will have to do some googling and fishing.
Movies filmed in London
There are several movies filmed in London with locations you can visit on a trip to London. Some of the most famous film locations can be found on one of our organised tours. Of course, you can create your own tour. Below are some of the most popular and famous films filmed in London.
Harry Potter
Love Actually
Four Weddings and a Funeral
Notting Hill
Shaun of the Dead
Bridget Jones's Diary
James Bond
A Fish Called Wanda
Four Weddings and a Funeral
Paddington
The Bourne Ultimatum
Snatch
An American Werewolf in London
Sliding Doors
The Parent Trap
Bend it like Beckham
About a Boy
An Education
Films Set in London from the '60s, '70s, and '80s
The Elephant Man
A Clockwork Orange
Tinker Tailor Soldier Spy
A Lizard in a Woman's Skin
Death Line
The Long Good Friday
A Hard Day's Night
Peeping Tom
Victim
The Day the Earth Caught Fire
TV Shows filmed in London
Some of the best TV shows were filmed in and around the capital.  Below are some of the most popular TV shows filmed in London:
Only Fools and Horses – Filmed in Peckham in the 1980s.
EastEnders –  Filmed in Walford and the Elstree Studios in Borehamwood.
Upstairs, Downstairs – The house used for the exterior shots of 165 Eaton Place is still a real house near Belgravia. 65 Eaton Place
Yes Minister – Whitehall
Jeeves and Wooster – Mayfair
House of Cards – Westminster
Sherlock – Baker Street
Killing Eve – part London
Famous film locations in London
Notting Hill
Notting Hill is one of the most famous and popular films filmed in the City.  Portobello Road is one of the top locations to visit in Notting Hill. We wrote an article on all the filming locations in London Notting Hill here.  If you want to take a tour of the best North London filming locations, take a look at our Notting Hill tour below:
Harry Potter – King's Cross Station
Platform 9¾ at King's Cross Station is a very popular destination for Harry Potter fans.  There are many more London filming locations for the Harry Potter films.  We wrote a comprehensive article on Harry Potter locations which you can read here.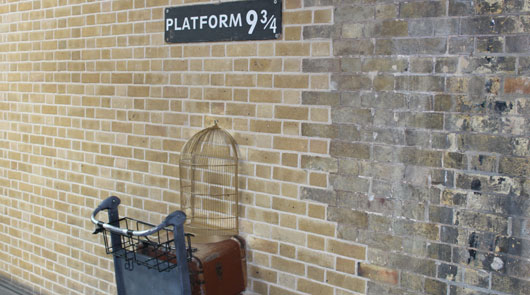 For those wanting a guided Harry Potter walk in London which visits more than 10 locations see below:
Wizards London Walk – Guided Tour of Harry Potter London locations
Paddington Station
Iconic Paddington Station is another top London filming location.  The bear was named after the London train station.  Many folk head to this train station in London to see the Paddington statue inside.   Here at BMT, we offer the only official Paddington Bear tour:
Bridget Jones' Diary – Borough Market
Fans of Bridget Jones ' Diary head Borough Market. Bridget Jones' home was situated above The Globe Tavern in Bedale Street.
James Bond – MI6
One of the more striking buildings in London is the MI6 Building in Vauxhall.  The building was blown up in Skyfall which of course was all CGI.  You can view the building which was featured as the headquarters in the James Bond films.
Four Weddings and a Funeral – South Bank
London's South Bank has been the back drop to a number of award winning films.  Visions of Hugh Grant running along South Bank in Four Weddings and a Funeral mainly come to mind
Killing Eve film Locations in London
Killing Eve is a British spy thriller TV series and was produced in the UK. Many people ask where was Killing Eve filmed.  The series was filmed in several locations including Tuscany, Paris, Berlin, Bucharest, Cheshunt, Turville, and London.  The West London Film Studios was also used.  The building used as Eve's base is in Warwick House Street, just off Trafalgar Square in London.  A roadside cafe off the A2 near Gravesend in Kent was used as Nell's Café.   Filming locations included Viscri, Romania, and Barcelona, Spain.
You can view more than 10 locations from the show on our very own Killing Eve tour below:
Brit Movie Tours is the premier provider of Film and TV location sightseeing tours in London and the UK.  The film location company's primary focus is customer care. To see all the tours we have available click here.